Last Updated Sept. 2002

As with most of our guides, the book shopping guide is very much a 'work in progress'. We especially need information about shopping for English teaching books and about bookstores in areas other than Seomyeon. If you have any information to share, please let us know.
New Books
Seomyeon Area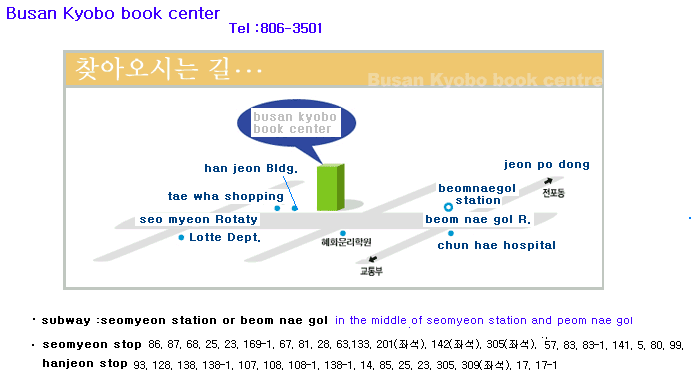 -Kyobo Bookstore
-Directions – From Taewha Department store, head towards Bujeon-dong (opposite of Seomyeon), walk about four blocks to the Kyobo Life Insurance Company Building. Directly in front of this building, look for a staircase, and follow it downstairs to the Kyobo Bookstore. Upon entering, turn ninety degrees left, and walk straight for about 15 yards. The Foreign Books section is on the right. See Map for more location details.
-Review – Kyobo Book Store opened its doors May 1, 2002 . Kyobo's foreign books section contains similar items to Young Kwang's, however a bit smaller. Not a carbon copy of Young Kwang, though, as many titles different from those at Young Kwang may be found, particularly among non-fiction bestsellers. Kyobo also houses an impressive collection of Biology texts. Kyobo also sells titles in Japanese and Chinese.

BE ADVISED! – On May 14, 2002 , a well-organized (and quite loud) anti-Kyobo Book Store demonstration took place directly outside the store. About 125 demonstrators beat drums, passed out flyers, and gave speeches. Demonstrators are unhappy that Kyobo, a Seoul-based chain, has entered the Busan marketplace to compete with l! ocally-owned stores. Unknown as to whether demonstrations will continue and/or to what degree.

-Young Kwang Bookstore
-Directions – Seomyeon subway station, exit number 9 (near Lotte). After exiting the station, walk straight ahead about 10 yards, pass the line of green telephone booths, cross the small side street, and head over to Hana Bank. Stay to the left of Hana Bank and walk another five yards. Young Kwang Bookstore is the next building on the right.
-Review – Directly upon entering Young Kwang, to your right you will find a magazine rack with copies of Time, The Economist, and Newsweek. With a little luck, you may also find a copy of the Wall Street Journal and/or The New York Times. To get to the English books section (called 'Foreign Books'), head toward the staircase in the middle of the room and descend to the basement. Upon entering the basement, straight ahead stands another magazine rack containing health/beauty, music, travel and computer magazines. Turn ninety degrees to your left. You will encounter a roomful of material for Koreans studying English. Turn an additional ninety degrees to your left. Go to the middle of the room, lengthwise. On your left, a short hallway leads to an adjoining room, which contains, in addition to more English-learning material, other books in English. Among Young! Kwang's treasures, you will find:
-Best-selling paperbacks (mostly fiction)
-Classic literature (mostly 19th Century English)
-Travel guides (including a vast 'Lonely Planet' collection)
-'For Dummies' books and 'Cliff's Notes'
-Texts on engineering, physics, economics, biology, architecture, electronics, computers, computer programming and management
-Books on Korea and learning the Korean language
-Dictionaries (mostly English, but some English-Chinese, English-French, English-Japanese as well)
-A handful of college textbooks on varying subjects, including literature, philosophy, linguistics and sociology.

Young Kwang's prices mirror what you would pay in the West. Young Kwang's staff members, at least those in the basement, usually speak English and are usually helpful.
-Dong-bo Books –
-Directions – From Taewha Department Store, walk one block towards Seomyeon rotary. Dong-bo books is on the right. Upon entering, head towards the rear left corner.
-Review – Small selection of English language books, mostly fiction bestsellers, but a also handful of college texts, children's books, and Cliff's Notes. Good selection of TOEFL/TOEIC preparation material and other English language learning material.
-Kim and Johnsons-
This bookstore is located in Beomnaekol(#18). Take exit #1, it is on the second floor of the building at that exit. This bookstore has only English books, although most of it is geared toward teaching English to children. It has a large selection of childrens books and textbooks. They also have childrens videos and educational cd roms. They have a very small selection of novels. Memberships are possible for discounts of 10 or 20%.
Nampodong
- English+ -
This bookstore is located in Nampodang. Take exit #7 and walk up the one way street, past the camera shops. It is on the lefthand side of the street. The first floor is childrens books, videos, and some cd roms. The second floor has books for teaching adults, some novels and books on korea. They also have books for learning other languages, like French and Japanese. You can get a membership card for this bookstore. Once
you spend 300,000won you can use the points to get discounts. This amounts to about 10%.
- Kidari English -
This bookstore is also located in Nampodong. It can be found across from the Canadian Consulate. It is linked to Kim and Johnsons, so the discounts are available there as well. This bookstore has some books for teaching adults, but most of the books are for childrens.
- MoonwooDang Bookstore -
Another bookstore located in Nampodong. This one hasbeen mentioned in LonelyPlanet for Korea. The English section is small.
Haeundae
- English+ -
This one is located in the same building as TGIFridays and Starbucks. It is smaller than the one in Nampodong. It has mostly children's books. Membership is also available, but the membership cannot be used at both stores. Apparently membership is valid only at the store you sign up at.