Pusanweb Places - Beaches

Dadaepo
Dadaepo Beach is located in Saha-gu, between Eulsudo, a sanctuary for migratory birds, and Gamcheon Harbor. Flanked by the Nakdong River Estuary, it offers beautiful views of Molundae and long, quiet stretches of white sand beach. Compared to Haeundae and Gwanganli, Dadaepo is not very crowded and can be a great place for a quiet walk on the beach.For more information visit KNTO, LifeinKorea.com, or Saha District Homepage.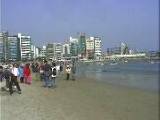 Gwanganli
Established during the Japanese Colonial Period for elementary and middle school students who were learning to swim during summer vacation, this is one of the most famous beaches in the country. Along Gwanganli are many restaurants specializing in sliced raw fish. Hotel accommodations can be found as well, just minutes from the shore. Gwangalli hosts the 'Busan Sea Festival' early in August each year. Click here for our photo visit to Gwanganli. For more information, visit Pusanweb's photo section, KNTO, LifeinKorea.com or 21citi.com
Haeundae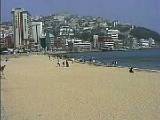 Once known only for its hot springs, the narrow strip of sand around Haeundae has become Korea`s most popular beach. During summer vacation and especially on weekends, the area becomes a wall of humanity. Even during the cooler seasons, people flock to Haeundae for a stroll along the boardwalk, to fly kites in the ocean breeze, or to look for shells in the sand. Another popular attraction is the Busan Aquarium, completed in 2001 and situated in the center of Haeundae Beach. Close to Haeundae are a number of hot springs, the Oryuk Islets, Moon-viewing Road, Cheongsapo (a famous raw fish restaurant), Suyoung Yachting Center, the recently opened Municipal Art Museum and Busan Exhibition Center, and Dongbaek Island. According to legend, Choi Chi-won passed by Haeundae on his way to Mount Gaya where he was to give up his government position. Fascinated by the exquisite wonders of Dongbaek Island, he set up camp and called the area "Haeundae" after his pen name, "Hae-un."
For more information, visit Pusanweb's photo section, KNTO, Metro Busan, LifeinKorea.com or the Haeundae District Homepage.
Imlang Beach
Located in Jangan-eup, Imlang-il, is also called Imeurangpo Yuelea Beach. The meaning of imeurangpo is "the shore of an estuary." This location is part of Chasungpalkyoung. The sand beach is over 1 kilometer long and the southern part of this beach includes Imlang lake. Around this beach there are many old pine trees. During the off season, this is a very quiet place.
Songdo
The first tourist beach in Busan, its name aptly indicates a forest of pine trees (song) on an island (do). Songdo boasts many curious rocks and is famous for the suspension bridge that connects it to the mainland. It is also well know for having many raw fish restaurants and a beautiful driving course along the beach. For more information, visit KNTO or LifeinKorea.com

Songjeong
Songjeong Beach covers an area of 40,000 square meters and welcomes about 144,000 visitors from July 7th to August 31st. It is quieter and less developed than other nearby beaches. Though Songjeong Beach was opened on July 9, 1965, summer civilian visitors were not permitted to approach the west white sand area until 1993, when its designation as a resort area only for the military changed. Today the entire beach is open to all visitors. For more information, visit KNTO, LifeinKorea.com or BusanHotel.org